I was tempted to copy-and-paste the format I used last year, but while this is the 4th year in a row that the Cavs and Warriors have faced off, this time will be much different. Unfortunately for fans, it's also not nearly as unpredictable. The entire story is just how much one man – LeBron James – will be able to do to give his team another championship before he leaves for good. Let's take a look at how many more wins he can give Cleveland in the last series of the 2018 NBA season.
First of all, how did we get here? Unlike in the last two years, this wasn't inevitable. The Celtics had a legitimate shot at taking Cleveland out for much of the season, and the Raptors ran away with the Eastern Conference. The Pacers gave them everything they could handle in an early upset bid, but nevertheless, the 4-seeded Cavaliers fought and clawed their way past each of them (well, past the Pacers and Celtics) when it mattered most.
Wait, did I say Cavaliers? I really meant LeBron James. My pick for MVP this year had arguably the best season and playoffs of his 15-year career. He literally accounted for over 50% of the team's offense in the playoffs, averaging 34 points, 8.8 assists, and 9.2 rebounds per game. Falsely assuming that all 9 or so assists were two pointers, that is generously saying that James is responsible for 52 of the Cavs' 101 ppg this postseason. Now just imagine if he were to play a defense that was focused on getting the ball out of his hands…
Hey, I'll be honest. The Warriors are no juggernaut. People expected a tough battle with the Spurs in Round 1, but without Kawhi Leonard and later sans head coach and mastermind Gregg Popovich, it became pretty easy for Golden State to advance. In the Conference Semis, the Pelicans' interior offense was no match for the Warriors' perimeter shooting, and they again advanced in 5. Then, the toughest test came against a motivated Houston Rockets team that was the favorite all season long to knock off the defending champs. However, even after huge 1st half leads in Games 6 and 7, it wasn't meant to be for the 2nd most valuable player James Harden and an injured Chris Paul.
Golden State's tenacity and resolve to come back from huge deficits is commendable, and a huge reason why it's going to be nearly impossible for one man to take them all down. They have a seemingly endless energy tank and laser focus that lasts all 48 minutes each and every night. With the Larry O'Brien Trophy again within their grasp, it would take a miracle for the Warriors to let it slip away after they've come this far.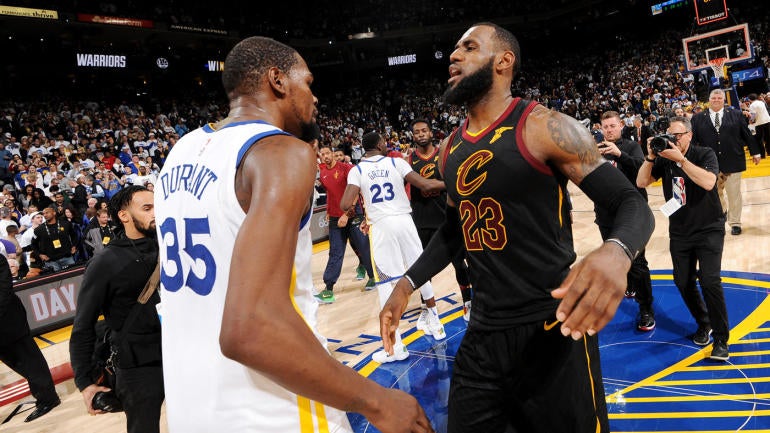 So here's the scoop this year: it's James vs. Steph Curry, Kevin Durant, Draymond Green, and Klay Thompson. Each of those four aforementioned names is capable of guarding James 1-on-1, which leaves three excellent defenders on the other Cavs players. If I'm Steve Kerr, unless Andre Igoudala returns, I would pick Durant to go against James. He has had a marvelous season defensively, leading all small forwards in blocks per game with 1.8, and suffocating his matchups both on the perimeter and on the drive… both of James' strong suits. Thompson is equally known for his aggressiveness with his back to the hoop too, as well as his sharpshooting. Green can get in the mind of anyone who dares to step in his path, and of course there is Curry who can do it all in crunch time. If that seems overwhelming, then you see my point.
In order to bring Cleveland their second championship and to even the Finals series with the Warriors at 2-2, James' team has to step up. J.R. Smith needs to start hitting threes, Kevin Love needs to be healthy and become a second threat, and Tristan Thompson is going to have to dominate the boards on both ends of the court. It won't be easy, but the Warriors don't have the pressure on them. James does. So who is going to step up and finally help take some of that off of him?
In my eyes, LeBron James needs four more wins to officially become the greatest of all time. He has already had the best season of his career, and that is no thanks to his mediocre, if not subpar, team that probably finds themselves out of the playoffs without him. The fact that he has dragged them into June is an incredible feat in its own right, but the history books will only remember him for how he ends this season. With an impossible series win against the Warriors, he would undoubtedly be the best to ever play the sport. With a loss, he would move to 3-6 in the Finals, and 7 of those appearances (record of 3-4) have already come with a comparable amount of help as Michael Jordan had (who was 6-0). The only way to pass the legend that literally every athlete of every sport is compared to is to single-handedly knock off the Goliath of Golden State.
Predictions:
Game 1- Cavaliers 90, Warriors 112
Game 2- Cavaliers 103, Warriors 115
Game 3- Warriors 108, Cavaliers 110
Game 4- Warriors 117, Cavaliers 104
Game 5- Cavaliers 97, Warriors 109
The Warriors aren't dropping a game at home, and if not for a buzzer-beater from James, they don't drop a game on the road either. This time, they don't blow a 3-1 lead. Warriors in 5.
MVP: Draymond Green. He's already having a terrific and consistent postseason, and I expect his play to be pivotal in times of struggle and a success throughout this short series.
Bonus Prediction: With this, the Cavaliers-Warriors Era finally comes to an end. The Warriors ironically win the four-year war 3-1, and LeBron James is forced to take his talents elsewhere. I'm not one to predict his landing spot, but if he's not in Houston, I'd like to think he's speaking with Paul George on who they should take to the Finals next year.