It's the dog days of summer, and every sports fan dreads the lull of action throughout August. With football season still a few weeks down the road, and MLB division races already starting to heat up, it's the perfect time to check back in with my 2017 MLB Predictions from April. Let's take a look at what's changed…or in my case… what hasn't!
I'll begin with what I got right. All 6 of my preseason division winners are currently atop the standings, and I'm sticking with them down the home stretch. In the NL, the Nationals and Dodgers hold commanding leads in their respective divisions, while the defending champs are still clinging to a small lead over the Brewers. I expect the current seeds to hold for the most part, as the Dbacks and Rockies are in a league of their own, appearing destined to meet in the Wild Card game.
That leaves just the 3 seed up for grabs as Chicago and Milwaukee battle for the N.L. Central crown. There is no question who the better team is here. It's been a great story for the Brewers, and I hope they can keep up their good fortunes, but there shouldn't be a doubt in anyone's mind that the Cubs will repeat as division champions. Though they certainly won't have the best record in the league as I had predicted, it's really not that important. Once the Cubs make it to the postseason, the tables will reset, and they'll be ready to chase history once again.
As for the American League, the Astros continue to stave off questionable pitching and potentially season-altering injuries en route to the #1 seed. Meanwhile, the Indians have held the AL Central in check for most of the year, and I expect their lead to grow as the hot-hitting Royals eventually cool off. But the drama rests in the AL East.
My preseason World Series Champion Red Sox is locked in a battle with a surging Yankees team. It's been another great story for a team that's a year ahead of schedule in New York, but I've got Boston hanging on in a division that's up for grabs.
There is a lot of criticism being thrown at the Red Sox' front office for not keeping up with all of the blockbuster moves the Yankees made, but what exactly was Boston supposed to do?  Before the deadline they picked up the hottest hitter in baseball in Eduardo Nunez for scraps, leaving room to beef up their bullpen with Addison Reed. I guess you could say they should have gone after starting pitching… but why? Not only do they have the defending Cy Young Award winner, but they also have one of the best pitchers in the MLB with Chris Sale. A rotation like Boston's is good enough for most teams, and it's definitely good enough with the way the Red Sox hit, and Craig Kimbrel and company lock up the late innings. The Yankees did a great job to challenge the Sox and should have at least a Wild Card spot to show for it, but make no mistake: this is Boston's year.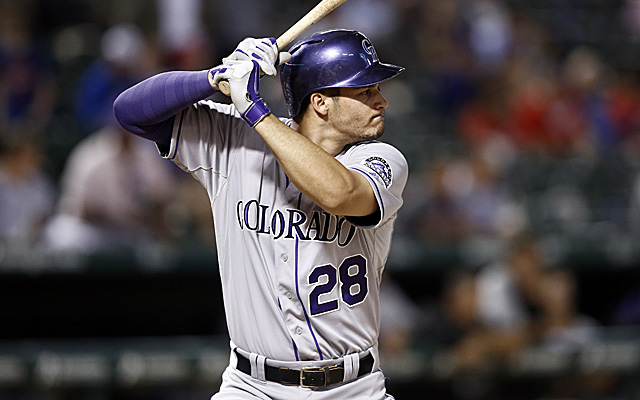 Now here's where I missed the mark a little bit. The Rockies, a team that I thought was going to step back, instead took a giant leap forward. Along with a surge from my dark horse in Arizona that I didn't fully commit to, now they can smell the postseason. As 3 of the top 5 teams in the MLB hail from the NL West, someone has to lose… and lose the Giants did.
With Madison Bumgarner going down in April in a dirt bike accident, and causing San Fran to inexplicably plummet to the worst record in baseball, I will miss out on going a perfect 10/10 in playoff predictions. Now they are only trailed by the White Sox and Phillies, but the damage has been done…thanks, MadBum!  I'm still clinging to a little hope that the Cardinals can put it together and get over the .500 hump, but in reality, the Rockies and Dbacks won't surrender their holds on the 4 and 5 spots.  
However, we do a complete 180 in the AL. Seemingly everyone has a shot to play in the Wild Card game with 13/15 teams within 6 GB of the final spot. Therefore, I've got my fingers crossed for the Rangers and Orioles. However, again, with the Rangers dealing away their ace Yu Darvish, even they are looking ahead to 2018 and will try one last time to go all in before their entire roster either leaves or retires.
That said, I'm sticking with the Orioles to just squeak into that final playoff spot… and here's why. They have a similar dynamic to the Red Sox: great, balanced hitting, one of the best bullpen's in the MLB, but not a lot of starting pitching. A small step to help their rotation was picking up Jeremy Hellickson from the Phillies for a bench player and cash. Hellickson isn't world class by any means, but you have to remember he was the Phillies' ace for a reason. Not to mention, the O's also managed to pick up another hot bat in Tim Beckham. While they may not have a team to go deep into the postseason, they do have a team built to win now. So mark it down, the O's will fight over the next couple of months and get to play in Game 163.
.
Playoff Predictions
Here we go. With all of that said, not much has changed since my thoughts in April:
AL Wild Card – Orioles at Yankees
Yankees fall just short of the AL East crown while the Orioles just get into the playoffs. Momentum makes a difference- Orioles advance in a shootout.
NL Wild Card – Rockies at Diamondbacks
The long-awaited matchup could go either way, but Arizona proves to be too much…they move on behind clutch hitting.
AL Division Series
Orioles vs Astros – You know, if it was any other team, I might go against the Astros. Besides Dallas Keuchel, they don't really have the pitching to compete against top-level competition. However, neither do the Orioles. Houston's hitters > Baltimore's batters, they move on after 4.
Indians vs Red Sox – Here are two teams craving revenge from heartbreaking ends to 2016. In what will be an entertaining 5-game series, Sale spins a gem and the Sox roll into the ALCS.
NL Division Series
Diamondbacks vs Dodgers – These guys are very familiar division foes, so throw records and scouting reports out the window and go after 'em. The Dodgers want this more; sweep.
Cubs vs Nationals – After a very evenly-matched season series, this one lives up to the hype. The Nationals have everything going for them, including some relief from the bullpen and finally, FINALLY, win a playoff series.
AL Conference Series – Red Sox vs Astros
See above. Red Sox are in the Fall Classic with time to rest after winning Game 5.
NL Conference Series – Nationals vs Dodgers
I CAN'T WAIT. Clayton Kershaw vs. Max Scherzer. Yu Darvish vs. Stephen Strasburg. Are you kidding me?? This is going to be a hell of a series. I go back and forth on this every day, but for now I'll go with Dodgers over Nationals for the 2nd straight time.
World Series Prediction: In the end, it doesn't matter whether it's the Dodgers or Nationals. It's the Red Sox's year.