And with that, the 2016-2017 NBA season is in the books. I wish I could say I am surprised, but I'll take my preseason pick becoming champions and a 1.000 record in the playoffs any day. Let's take a look at how the Warriors triumphed, and at what we can expect in 2018.
One word: identity. The Warriors are comfortable with up-tempo, quick possessions; score fast and score often. Over the course of the playoffs they were able to develop chemistry amongst their all-stars to a point where everyone was comfortable no matter who had the ball. This camaraderie would've been heightened during the regular season had it not been for Kevin Durant's knee injury. Had everyone been healthy all year, we may have seen more of the dominant 31-2 run to end the season.
As the Warriors found themselves in the postseason, they stayed true to their comfort zone and controlled game pace and hit shots they knew they could make. It was a nice effort by the Cavs after Game 3, but had they played that aggressively from the outset, their season might not have been over yet. Only when the Cavaliers got under the Warriors' skin did the facade begin to crack. If Game 4 wasn't enough evidence of this, the scuffle in the second quarter (pictured below) led to the Cavs' comeback before GSW was able to put them away late.
With the help of their home crowd and some mental fortitude, the Warriors did it. They overcame one last obstacle en route to the second of many titles to come. LeBron James' herculean effort wasn't enough. Neither was J.R. Smith's 7 3's in Game 5. It was just too little, too late. The Warriors were consistent throughout the season, and will continue to be for years to come. That's the best thing about Golden State… they don't beat themselves. It takes a 110% all-around team performance, plus an off-night, for the Dubs to take an L. To have that happen four times out of seven? Nearly impossible.
Shifting gears a little to the controversial Durant decision, you have to give him credit. Agree or disagree with how he won his first NBA Championship, you can't say he didn't earn it. Averaging more than 35 points per game is more than enough for the Finals MVP honors. It's quite the role-reversal from 2012, in which Durant lost to give James his first Championship. It's pretty cool to check out the images below that capture the difference (or lack thereof) from 2012 to 2017.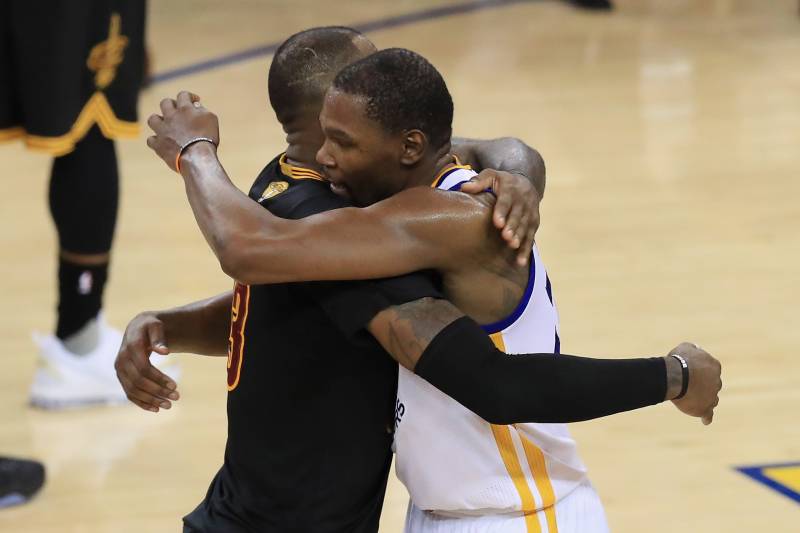 Now, with a dynasty firmly in place pending a huge Stephen Curry contract extension, what does it mean for the rest of the NBA? Answer: Lots of movement every season. Unfortunately, we've entered an era in which there is no more loyalty to one's hometown. If a player wants to win titles, it takes a super team. While the Cavs and Warriors are the clear favorites for next season, the Celtics aren't far behind.
The defending conference champions, Boston scored the #1 pick in the draft via a trade with the Brooklyn Nets a few years ago. Furthermore, they're regarded as a prime landing spot for Utah Jazz front-man Gordon Hayward. Meanwhile, the Los Angeles Lakers are in position to draft Lonzo Ball, as well as to attract the likes of Paul George. Thirdly, as Chris Paul struggles to hit his stride in L.A., perhaps he can move to San Antonio and help the Spurs. I'm personally not a fan of all of this shifting around to chase championships, but it's probably moot. It's going to take everything the league has to offer for the Warriors to surrender their title next season, and I'm not sure any of these scenarios would be enough. With all of that movement merely rumors for now, I fully expect to see Cavaliers vs. Warriors IV in 2018. Until then…
Congratulations to the Golden State Warriors, 2017 NBA Champions.